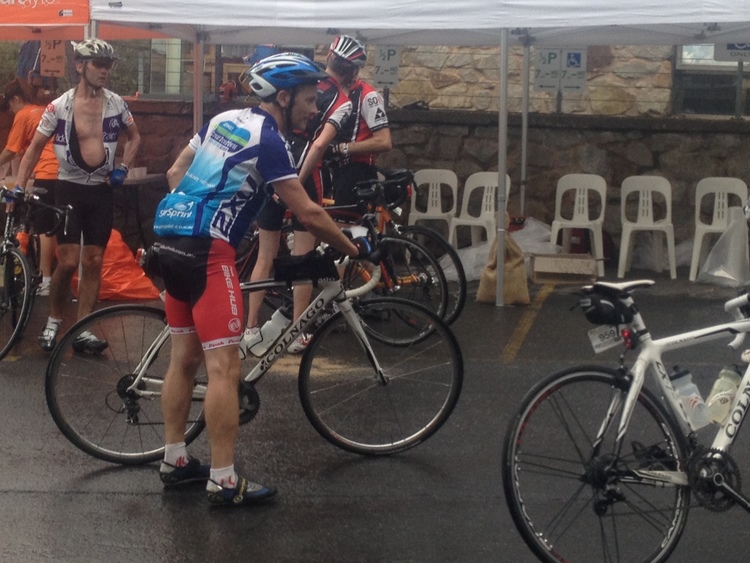 It continues to surprise me 2 days later, the range of emotions that you can have during this sort of ride. Starting with that standard early Saturday morning feeling of "have to do" not necessarily "want to do".
However, we queue jumped beautifully and bought ourselves an extra 25 minutes or so.  I passed Lloydy on the way down Falls in the rain and with intense concentration trying to hold my line under heavy braking around the sodden bends and the last I saw of him (and the others) was 15 minutes later as I took off the jacket for the first of 8 or 10 occasions.
Having driven in through Tawonga Gap, I knew exactly what was in front of us, pretty much Kinglake, give or take.  The guys back at Banool Lodge were tracking our process courtesy of fitted electronics and readers and at some point, it may have been here, I was in theory 30 secs in front of Lloydy & Co.
After training, all I could do was plan for "no surprises", so the map was my master in the lead up, and told the first lie leading to the start of Hotham, reasonably flat orange section but not totally.
Planned to start Hotham at 10.15 and left Harrietville at 10.07, so on track at this point.
Again the first 18k had its moments, but I didn't even notice the (short) 11.8% "Meg".  CPR Hill (or something like that) was appropriately named, after we had given back about 100m it was brutal and with the first stab of a cramp in my quad I decided to joining a walking pommy (not Lloydy) with a gradient reader who said it was 12%, then 13%, for about 500 metres.
Back on the pedals, and with only one more 100m walk and Hotham – the bastard – was done. But it had done plenty to the legs.
I hadn't quite realized how much emotion I had expended in setting it as my goal, just to get the chance to go down the other side, with the obvious result.
While the concept of down-hill appeals, after 2 hills in the legs, even the gentle rise to Dinner Plain was plenty to drop me below 20ks.
There was talk of Yellow cards at 2.00 if you were still there and Red at 3.00, but I didn't really care by this stage and just thought of getting to the start of Falls, so I left at 2.08, less about 3kg of
wet jackets, knicks etc.
The next 13ks in 19 minutes was a dream but again, even small hills were a big problem and Lloydy texted me leaving Omeo, just after I had a flat, 13km behind.
The crowds at the stops were thinning, and I noted an increased volume of "sag wagon justification", as I pumped the repaired tyre from 30 odd to 110psi.
As far as I was concerned the next 30 odd Ks came at little cost, not easy, but it was all a bonus and when asked by a photographer, I guessed there was about 10 people behind me.
I felt the time battle was being lost but this section truly put paid to the unofficial blurb (Lloydy), which suggested "at no point will you be enjoying yourself".  I'd go back to ride this part alone, 25 degrees, bit of a breeze, open farming land giving way to the classic bubbling brooks over exposed granite, looking down from a notched, fairly flat path into the side of folded green hills… but still only about 25ks max.
Expecting to be stopped at Angler's Rest, a grumpy cop was telling a Bike Vic bloke the road was to be closed at 7.00 not 7.30 as publicised.  So I asked him what happened if you got half way and he said turn your bike upside down and we will pick you up.  This implied the opposite, but with "1hr 22mins to do 44kms", including Falls, it was an unlikely equation by this point.
In my mind, with 186k down, 200 was a magic figure so I scooted across a gap filled timber bridge, and made my first mistake, only half a water bottle left.
At 195km expecting to be stopped again, they let me turn up Falls, and I had no misconceptions, 8km at 5 kmph walking, equals about 90 minutes with a bit of luck.  One bloke went about 100m around the first bend and came straight back down. 3 or 4 others were just standing and looking, to which I suggested they start walking, "only 8k of this to go", and bugger me, they did start.
While a huge frustration to anyone I walk with
casually, my 5.5kmh pace, touching 6 at times was an huge advantage for the
first time in my life, and I would guess I passed more people walking than I
did  in the saddle, but thought I'd try
to bring them back to life with the mandatory, "passing".
I'd recon I got in and out of the saddle 15 or 20
times, drizzling rain, jacket on and off, but some were walking regardless of
the gradient, and a few in bare feet, with no tops, as a motorbike went past to
say the sag-wagon was 10 minutes behind, I figured the more I passed the longer
it would take them. The worst was out of the way and to his true credit, the bearded
legend on the bike came back again and half filled my water bottle.
At this point, and for the first and only time during
the last 12+hrs I had the fleeting thought that I might actually make it, an
absolute bloody luxury.
But
from there, any rise and I was below 10ks and myself and one other coasted into
a sea of flashing lights and 60 odd others at Trapyard Gap about 7.40pm, 90% of
the distance and about 300m below the top, but all done and relatively content.