Day 1 – Canberra to Cooma 122km, (1,252m)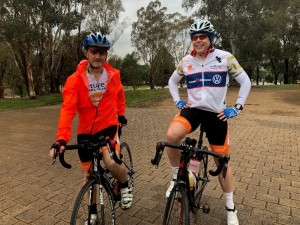 After an early start, we were welcomed and the Wheel Classic was launched at Parliament House by the Green's Shane Rattenbury.  We also heard from a Future2 grant recipient, Matthew of Pegasus ACT, where programs focus on young Australians and giving them the opportunity to ride and care for a horse to help develop life skills.
After a few flats (and corresponding false starts) we headed off in earnest and according to a few locals, the drought may have broken. It was a dirty day to (Bredbo~80k) as we rode in to the first dry ground for the day, but not for long.
Only when we came into the outskirts of Cooma could we dispense with the sloppy jackets and start to dry out.
Day one done, 7 to go.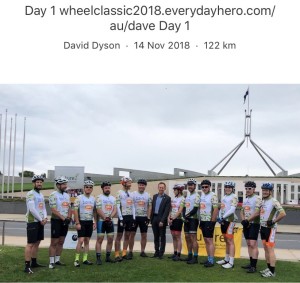 Day 2 – Future2 Wheel Classic 2018
Cooma to Jindabyne (via Mt Perisher) 126km, (2,500m)
Riding the relatively flat road to Dalgety provided the 12 of us with the chance to find some rhythm, after Day 1 nervous energy and enthusiasm had abated.  It also becomes a matter of familiarising ourselves with each other's riding styles and abilities, as much for our own comfort, as safety. Acceleration on a downhill or standing on the peddles to exert that extra effort to crest rises, has a significant impact on elasticity in group riding. Alternating the lead position to share the wind has great benefits to the whole team, so hanging on to the rider's back wheel in front of you is in the whole peloton's interest.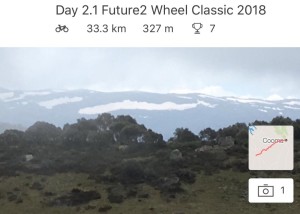 But we all knew the "optional" challenge of the day was Mount Perisher.  After 2 long hours climbing some 800m vertically over 12km, the weather was closing in. With visibility down to less than 20m, quite wisely, the slower 4 of the 7 climbers were ordered into the support vehicle for the trip back down to Jindabyne for the night.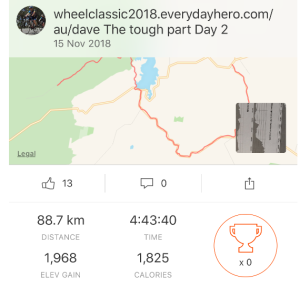 Day 3 – Future2 Wheel Classic 2018
Jindabyne – Merimbula 193 km, (2,450m)
Today, while we were to rise nearly 2.5 km again, this was to be a long haul however you looked at it.
Setting off early, with Bombala for a regrouping at lunch, a front and back group were formed, with a few of us "maybes" in the middle, and a decent herd on the side.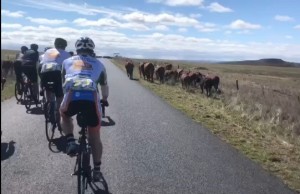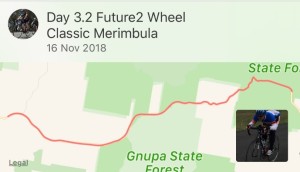 The temperature was rising and it was not until some 10-11 hours was spent in the saddle that the familiar outskirts of Pambula came into sight.  Having spent many family holidays here in the 60's, 70's and 90's, there was a comforting familiarity that helped to numb.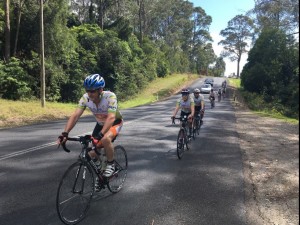 Darren's friends and family were on hand in Merimbula to host a well appreciated, relaxing beachside BBQ.
Day 4 – Future2 Wheel Classic 2018
Merimbula – Narooma .  106 km. (1650m)
Rolling out at a sedate pace, we were rudely confronted by a nasty climb only 500m down the road.  There was no sign of the overcast and rainy conditions of earlier days, as the humidity also climbed.
The concession to old legs was the rolling terrain, which has always suited my riding, (where energy permits); powering down the slopes to hopefully avoid having to "grind"up and out of the valleys.  While not the greatest for team riding, at some point, self preservation needs to take precedence on these rides.
There was some great coastal scenes along the way, and as I rolled into Bermagui, there was even time for a quick dip before the balance of the peloton arrived for lunch.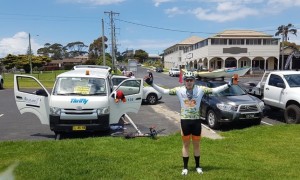 Being just far enough from the main capitals to inconvenience weekends, the town has retained much of the relaxed appeal I remember from holidaying here some 20 years ago with young kids.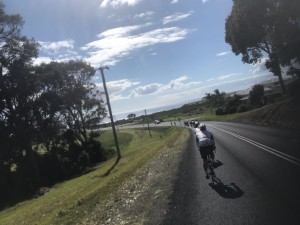 With only 1/3 of the day's Ks to go, Narooma was achieved with relative ease, but still required another 500m climbing.
Day 5 – Future2 Wheel Classic 2018
Narooma – Batemans Bay. (only 76km. of) 82km (800m)
It was warming up appreciably, and most were resigned to the expected climbing by this stage, so it was just a matter of getting on with it.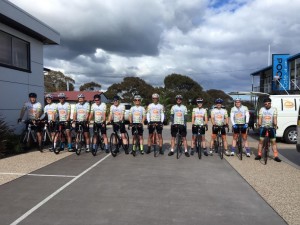 A quick break to replenish and relieve at the top of the first major hill brought a few more laughs, and on we pedalled toward Moruya.
Over the last 6 tours, through good luck and once decent gear, I had managed to ride every km, but a broken spoke and resultant buckled rear wheel brought that to an abrupt end some 8 Km short of our lunch stop.
The tuning of a wheel, is a fine art and near impossible for the average bike shop mechanic, had there been one open on this Sunday afternoon.  However, undaunted by the situation, Davie Eck (ride coordinator) came to the fore, with some brilliant adaptive thinking.
Reasoning that the help we needed must be around somewhere, he approached the newsagent, and as anticipated, they knew of a couple of triathletes, who lead us to carpentry repairs being conducted at the local fitness centre.
After our own futile attempts to "true" the wheel, I returned after a feed to find "Ivo" the local Physio at work. Despite the remaining aged spokes and corroded aluminium adjusters, he not only had it rotating without rubbing, but achieved such a result that it enabled me to ride the remaining 40 Ks for the day, into the night's stopover, shortly after all other riders.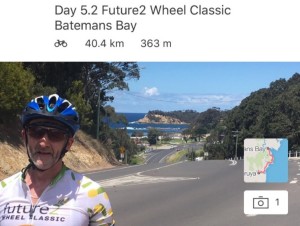 And he didn't even want to bulk-bill!
Day 6 – Future2 Wheel Classic 2018
 Batemans Bay – Berry  (~135 km. (1650m)
Again, Mr Eck rose to the occasion, arranging for the local bike shop to be accessible early, so as to replace a total of 7 defunct spokes and nipples.
Unfortunately, a "necessary perfectionist" takes their time, and as we had already given the group 40 minutes head start, Ecky leap-frogged me 18k down the road, toward Ulladulla.

There were multiple flats in the main group and having eaten earlier, there was time for a quick splash in the rock pools to cool tired legs.
On we rode relatively uneventfully along rising motorways, back inland, and back in time, to the Berry Hotel.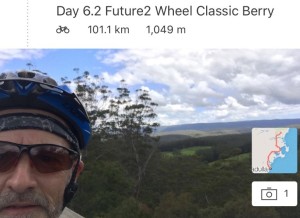 Routine is a saviour on these rides, but unfortunately one that 2 bathrooms and 2 toilets for 20 plus guests did not allow on this occasion, as the crew from Iress swelled our numbers.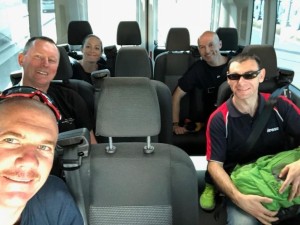 Day 7 – Future2 Wheel Classic 2018
Berry – Wollongong.  153 km. (~2500m)
The coastal route would have been a mere 90 odd kms, but that was not to be for us of clearly only moderate intellect.  No, it was decided that  climbing 2 monsters, one almost from the word go, and a second major before 35km, back out of Kangaroo Valley, would be just preliminary torture for the day (1200-1300m).
So with a further 120km odd still to travel, the thighs were shot early.
At any further rises for the next 2 or 3 hours, of which there were plenty, it was back to the "granny-gear" I had installed for last year's Tassie torture ride.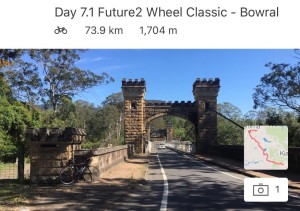 Again things were getting very hot and sticky, and after a series of rolling bumps across the top of a poorly graded range, we descended the equivalent of a ski jump at high speed.
We then settled into the most magnificent Aussie countryside of the ride. Mighty gums joining in an arbour across a peaceful and shaded waterside way, so picturesque that a local had set up an easel to capture it.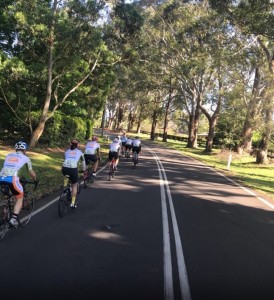 The descent of Macquarie Pass lay ahead and we made the most of about 12 minutes  of uninterrupted banking and weaving at speed.  Most of us that is, as Chops and I confronted oncoming traffic at a hair-pin, themselves avoiding a removalists van that had overshot the turn.
A further 30 kms of light and heavy traffic, and we rolled into Wollongong, as exhausted warriors.
Day 8 – Future2 Wheel Classic 2018
Wollongong – SYDNEY!.  96 km. (1150m)
We ventured off for our last Day, along the majestic Sky-Bridge, up and over Stanwell Tops and through the Royal National Park, and up and out the other side.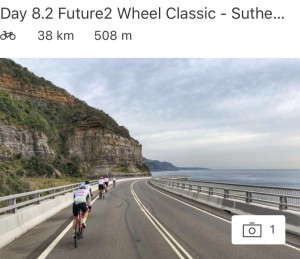 At Sutherland we regrouped for lunch so we could ride the last 30 odd Kms as we started, the one committed TEAM.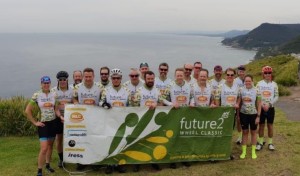 In all some 1000kms, 15 km vertically and I'd conservatively guess some 300,000 calories burned.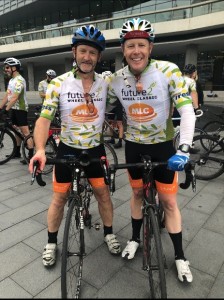 But over $130,000 in funds raised so well worth the considerable commitment of many.
We also need to acknowledge 16 hikers who took on "The Six Foot Track" in the Blue Mountains. It is normally a three day hike but was completed in two days (30km in day one, 15km day two) raising $30,000 for Future2.
We recognise the support we received in Canberra itself and the towns we visited along the way, including motorists, who were often very patient with us in waiting to pass, as we struggled up the hills.
Our Major Ride Sponsors support:
MLC (Geoff "Chops" Rogers rode from Merimbula- Sydney);
-Netwealth (Phil Coldwell & Nathan O'Meara all the way);
-Iress (5 for the last couple of days from Berry)
Also Pickles were very generous in providing the support vehicles, with fuel, which all helps to retain more of the funds raised to honour Young Australian's requests for Grants from Future2.
And of course a huge thanks goes to our individual rider sponsors through everydayhero.com.au .
We can't thank our support crew enough for keeping us safe. Dave and Di, and later the drive of Jacqui C and in particular David Eck for not only his great work in organising for the FPA, but his adaptability in keeping the Future2 Wheel Classic safely on the road in 2018.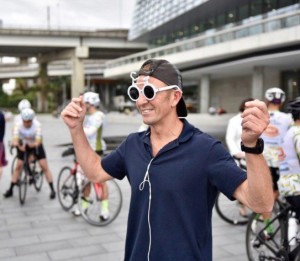 Roll on Melbourne in 2019!
Regards
Dave Dyson.